Racingline Rear Droplinks MQB MK7 Golf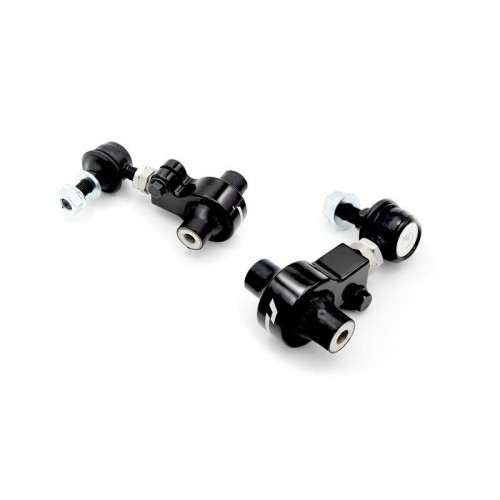 Klik foto voor meer foto's
ADJUSTABLE REAR DROPLINKS.
RACE-PROVEN FOR YOUR ROAD CAR.
The RacingLine Adjustable Rear Droplinks are an essential upgrade to any lowered or performance car.
WHAT THEY DO.
Our Rear Sway Bar End Links replace the soft factory rubber bushings with their weak plastic bodies with these beautifully engineered adjustable aluminium billet replacements.
Designed with one aim in mind: to help achieve optimum suspension performance and geometric accuracy, and thus increase the effectiveness of your rear anti-roll bar.
Each heavy-duty, high-articulation rear droplink attaches the rear anti roll bar ends to the lower suspension arm.
Replacing the failure-prone, weak plastic OEM links with our rigid billet aluminium links greatly reduces flex and allows a sharp, uncompromised transfer of suspension movement through to the sway bar.
As well as the link itself, extra stiffness and precision comes from replacing the flex-prone stock plastic ball joint with motorsport-spec ball joints. An especially valuable upgrade on older, higher mileage cars.
Fully adjustable by +/- 5mm to zero the pre-load on the anti-roll bar geometry. Clever design means that adjustment can be carried out at both ends whilst the droplinks are in-situ, making neutral positioning much easier.
Direct replacement – can be used with either factory or Aftermarket rear anti roll bar, and returned to standard at any time.
ADJUSTABLE
When you lower ride height, the geometry will now be adding preload to your anti roll bar. It's vital to adjust this back to neutral with the +/- 5mm adjustment built-in.
PRECISE
Solid, motorsport-spec ball joint ends mean much more direct response when turning in to corners.
Increase durometer rubber bushing creates direct response for anti-roll bar under cornering conditions
RACE-PROVEN
Developed for our race cars - adjusting out the sway bar preload allows the anti roll bar to work within its correct operating envelope is an essential part of geometry set-up.
PRECISION ENGINEERED FOR PERFECT PERFORMANCE.
- Motorsport-specification ball joint ends - high strength teflon-lined steel
- +/- 5mm of adjustable length with stainless steel insert to zero Anti Roll Bar preload
- Increase durometer rubber bush to create direct response for anti-roll bar under cornering conditions
- Rubber dust boots fitted to protect the joints
- Left / Right threaded ends make for easy length adjustment in-situ without having to detach and re-attach
- Lightweight CNC-machined 6061-T6 Aluminum bodies with beautiful gloss black anodised coating
CONFIRMED APPLICATIONS
VWR520000 (supplied as a pair)
> VW Golf 8 2020+
> VW Golf 7 & 7.5 2013-2020
> VW Passat B8 2015+
> VW Arteon 2017+
> VW T-Roc 2017+
> VW Tiguan II 2016+
> VW Jetta VII GLI 2018+
> Audi S3 8Y 2020+
> Audi A3 8Y 2020+
> Audi S3 8V 2013-2020
> Audi A3 8V 2013-2020
> Audi RS3 2.5 TSI 8V evo 2017-2020
> Audi RS3 2.5 TSI 8V 2015-2017
> Audi TT 3 8S 2014+
> Audi TTRS 3 2.5 TFSI 8S 2017+
> Audi SQ2 2018+
> Audi RSQ3 F3 2019+
> Audi Q3 2019+
> Audi Q2 2017+
> Cupra Leon IV FW 2020+
> SEAT Leon III 5F 2015-2020
> Cupra Ateca 2018+
> Cupra Formentor 2020+
> SEAT Tarraco 2.0 TSI 2018+
> Skoda Octavia IV NX 2020+
> Skoda Octavia III 5E 2014-2020
> Skoda Superb III 3V 2015+

RacingLine Group is based in Milton Keynes, United Kingdom. We are a tier-1 partner to Volkswagen Group, and to many we are best known for delivering the Volkswagen Racing motorsport programme ever since 1997, out of which was born our increasingly popular Motorsport & Performance Parts range, now sold all over the world. Alongside that is our successful Events division, and our other Motorsport and Automotive Services. But above all, we are passionate about our Volkswagen Group products, and passionate about making them go better and faster!