Racingline Intake System FOAM Polo GTI 2.0 AW Matt Carbon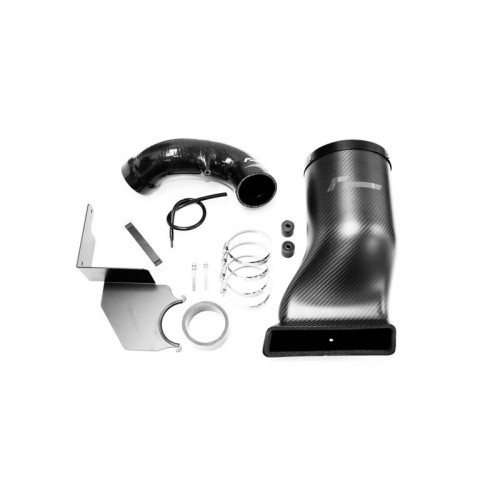 Klik foto voor meer foto's
POLO GTI MK6 AW 2017-2021 COLD AIR INTAKE
LET YOUR GTI's 2.0 TSI EA888.3B ENGINE BREATHE.
The highest-performing, race-bred carbon fibre cold-air (induction) intake for the Volkswagen Polo GTI mk6 AW.
WHAT'S SO SPECIAL?
The latest Cold-Air Intake System kit for the Polo GTI mk6 AW enables cold, dense air from outside the engine bay to reach the fuel metering unit more efficiently for great power gains, particularly on tuned cars.
Our giant High-Flow TriFoam™ triple-layer construction is simply the best filtration material on the market, and is the key to the power gains achieved
Each filter is handmade in the UK, with a surface area over 20% larger than the factory filter at 51,950mm2
The intake uses stunning 3K twill carbon fibre for the one-piece front scoop and filter housing for ultra-light weight and improved thermal insulation to keep IATs down
It's not just about performance; the stunning carbon weave of the intake (in your choice of gloss or matte finish) will enhance your engine bay every time you lift the bonnet!
PRECISION ENGINEERED FOR PERFECT PERFORMANCE
Trifoam™ filter construction, a triple-layer laminate of open-cell polyurethane foam, gives an exceptionally high level of filtration
Beautiful 3K-twill carbon fibre is strong, lightweight and with excellent thermal transfer characteristics to help keep IATs down
Matching reinforced Silicone Turbo Inlet Hose makes the most of the airflow gains from the Intake through to turbo
Full install kit of quality stainless steel hose clips and all fitting hardware included - to look good and keep looking good
CONFIRMED APPLICATIONS
VWR12P2GTG Gloss Finish
VWR12P2GTM Matte Finish
VW POLO GTI AW 2017-2021

RacingLine Group is based in Milton Keynes, United Kingdom. We are a tier-1 partner to Volkswagen Group, and to many we are best known for delivering the Volkswagen Racing motorsport programme ever since 1997, out of which was born our increasingly popular Motorsport & Performance Parts range, now sold all over the world. Alongside that is our successful Events division, and our other Motorsport and Automotive Services. But above all, we are passionate about our Volkswagen Group products, and passionate about making them go better and faster!